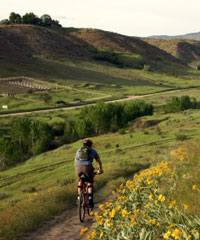 Table Rock Financial Planning has a flexible approach in offering comprehensive financial planning services—working by the hour, by the project, or on an ongoing basis. Whether you are seeking to establish a continuing relationship with an advisor you can trust or simply require a one-time planning engagement, Table Rock can accommodate you.
Would you benefit from any of the following services?
If yes, contact Table Rock today.
A financial check-up or validation of your current strategy
Creation of a workable spending and savings plan
A review and potential makeover of your investment portfolio
An objective second opinion regarding specific investments, financial products, or plans
Analysis of particular questions, such as "Should we pay off the house?" or "How much life insurance do I need?" or "Should we purchase long term care insurance?"
Specific plans for major goals, college funding, or retirement
A comprehensive financial plan—looking at all areas of your financial life
Specific areas of advice include:
Establishing financial priorities and goals

What do we want to accomplish as a family? What are our values and priorities?
Finances are about making choices—what are your guidelines for making trade-offs?

Creating your financial roadmap

What should we be doing first? What should we be doing next?
When are we ready to buy a house, invest in the stock market, etc?

Cash flow and debt management

How do we get out of debt?
How do we start saving on a consistent basis?

Education funding

How much do we need to be saving? How should we invest this money?
We haven't saved enough, now what?

Retirement planning

How much money do I need to retire? When can I retire?
How much do we need to be saving and investing? How do we invest wisely?
How do I manage my nest egg during retirement?

Tax management

How do I save and invest in a tax-efficient manner?
Are there other honest strategies to help us save on taxes?

Risk management and insurance

How much and what types of insurance do we need?
When should we self-insure?

Estate planning

What planning is necessary to make things as easy as possible on those I leave behind?
Do I need to be concerned about estate taxes?

Investments

How do I diversify my investments for minimizing risk and maximizing return?
How do I select investments in a cost-effective, tax-efficient manner?
Interested in learning more about Table Rock's financial planning values and philosophy?
Interested in delegating the management of your investment portfolio?
[Top]